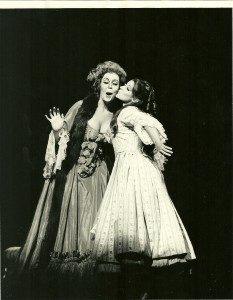 "As a singer, Valerie Saalbach is world-class, blending a golden voice with polished interpretations of the highest calibre. As a composer, her song cycles are earning their place among the legends of that genre. As a teacher she is knowledgeable, dedicated, patient and thorough. A great artist throughout."
Andrés Andrade, vocal instructor, Queens College.
"Val Saalbach is a wonderful composer. She has a taste for fine poetry and responds honestly to each text. Her songs are uniquely beautiful, intelligent and singable — and great additions to the vocal repertoire!"
Lori Laitman, composer.
"It was with pure delight and a feeling of "I can't wait to sing these…" that I first heard some of Valerie's songs. I couldn't believe that my dear friend had gone from lovely singer to conduit of such beautiful and inspired music. It's so very American, so very feminine, and in every little detail – every little bit – so very Valerie! It is unusual enough to hear songs in which the voice is given a natural and expressive path to explore, but even more so a special occurrence, when words and music are paired such, that one gives the other enough space to freely soar, yet are knitted together into those magical moments of which every song artist dreams. As I said, I can't wait to program her songs!"
Erika Sunnegardh, soprano.
"The collection of songs by Emily Dickinson are incredibly evocative, emotionally fulfilling, and fit my voice like a glove. It presents the poems clearly and richly, bringing each one to life in separate vignettes, but the cycle also takes you on a dramatic arc of character; it takes you on a journey. Plus, it is written so well; it's the kind of writing you can only see when someone understands how the voice works and can take you high and low and everywhere in between. It is a staple of my contemporary repertoire and is always a highlight when I program it in my concert performances."
Rachel Zevita, soprano
This is Emily's mom. I just want to thank you so much for getting us in touch with Valerie. Emily and I both LOVE working with her, and it's been really great for Emily already – after only a few lessons. She is so much fun that I even try to get out of work each Monday to listen to the lessons. What a pleasure. Thank you again for taking Emily into your world of teachers.
Julie R
We both LOVED working with you. You Are such a talented, beautiful, creative , and inspirational spirit!
Aiden's Mom
Her performance went beautifully! This was her first live performance since her nodules and though not technically perfect, you could hear a pin drop, she had the crowd in the palm of her hand. I can not thank you enough! As a parent, to hear your child's voice finally sound like it used to (or pretty close but it was in some ways better, like her vowel sounds) is a dream come true. What you've done with her in such a short period is truly amazing.
Isabelle's Mom
I maintain a private studio in New York City and also teach worldwide via Zoom. Learn more.